10 good reasons to choose Canyon Adventures
We are the largest canyoneering company in Italy. Our team consists of both local guides, raised in the canyons of the area, and by international professionals who bring their canyoning experience from all over the world. We speak several languages besides Italian, including English, German, Spanish, Slovenian.
We offer the widest choice of canyoning tours in all of Italy. You can come to visit again and again and always have new experiences. Most of these canyons have been "discovered" and equipped by our historical guides and are maintained by them every year.
We have no fixed plans, but are able to modulate our offer based on customer requests. You can therefore choose which tour or activity to do on any day of the season and you will not be tied to the program dictated by the organization.
We like to offer personalized advice via e-mail, telephone or personal talk at our front office before any booking, in order to advise you on the best choice, based on the group's composition, your experience, holiday address, your expectations. We don't limit our service to reservations and click payments without having had any personal contact.
We offer a free courtesy transport from our center in Torbole sul Garda to the activities and we have multiple meeting points all over the northern part of Lake Garda also. You will be able to meet your guides as close as possible to your accommodation or home and you will not need a car to get to the canyon.
We provide comfortable all-weather equipment that is constantly updated and serviced. Our wetsuits and neoprene socks are washed, disinfected and dried for each use. You will be able to wear a clean and dry wetsuit, without the doubt about who wore it before you and what they did inside it. Please be aware that this is a rare service in all commercial water activities.
On most of our tours you will be accompanied by our chauffeurs, who drive you to the entrance of the canyon, recover you at the end bringing your dry clothes, keep your valuables and act as an external support if anyone would need interrupt the descent for any reason. This saves you from long walk ins in your wetsuit under the scorching sun or long waits in the rain while the guide retrieves the van on foot.
We go out in small groups to make the experience more intimate and pleasant. This saves you long waits before each dive and you do not have to queue up with 20 people or more to do an abseil. We can still manage larger groups for special events such as hen or stag parties, company incentives or school groups. However, the customer-guide ratio will always remain at a maximum of 8 to 1 in order to maintain the descent as smooth and safe as possible.
At Canyon Adventures we have over 25 years of experience with guided canyoning tours. Some customers continue to visit us every year since the very beginning. Others, who had come years ago with their parents, bring their own children to let them live this wonderful trails of which they have a beautiful memory. Many of them have become friends or co-workers. Come and discover that canyoning with us is contagious and that you'll want to come back again to be part of the great family of Canyon Adventures.
We are not just guiding people, we try to give everyone his little great adventure, taking you to your limits and bringing a smile onto your faces. We take you back to your childhood, when everything was new and fascinating and do this every day with a smile on our face. You will live a deluxe canyoning experience and understand our maxim "This is life".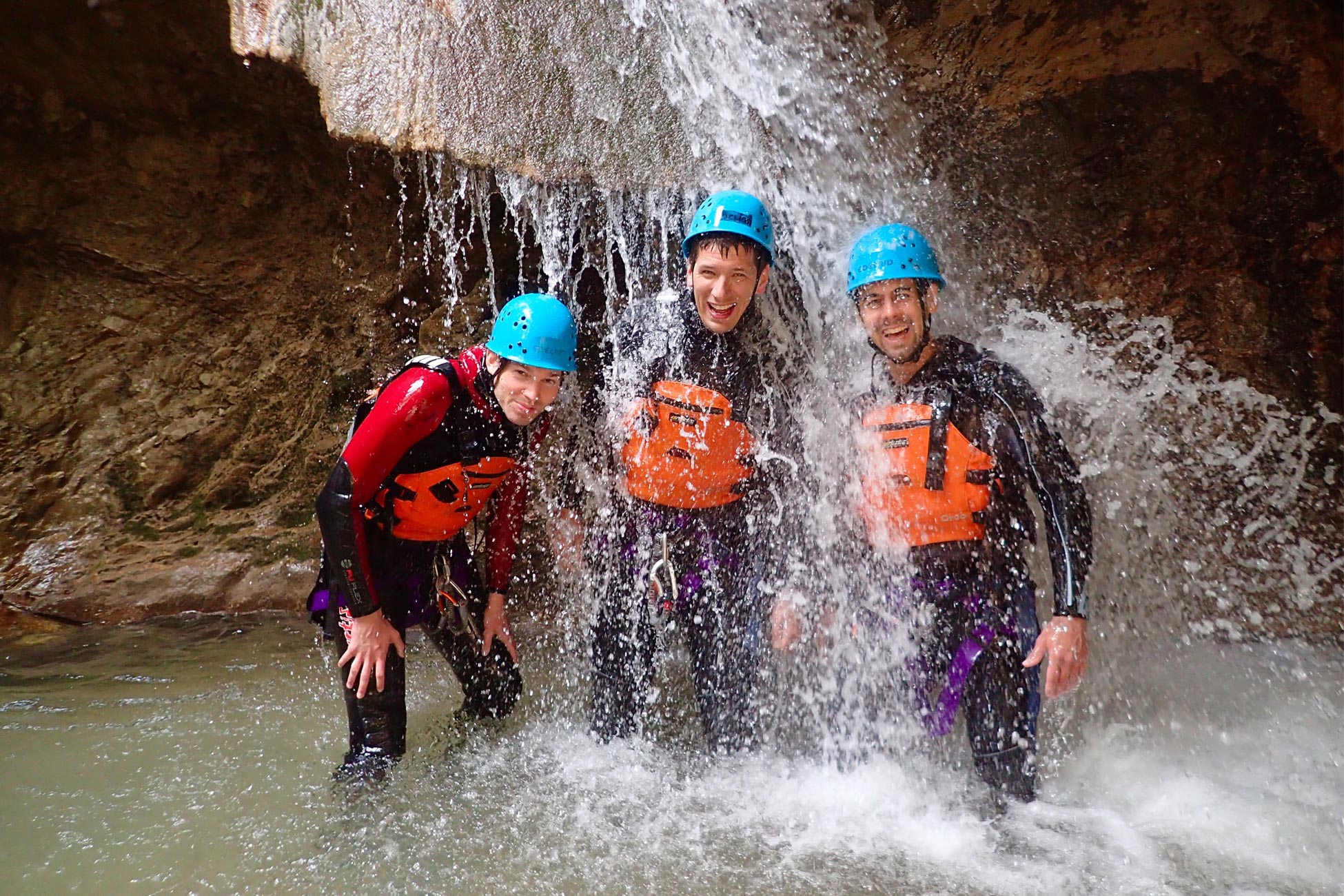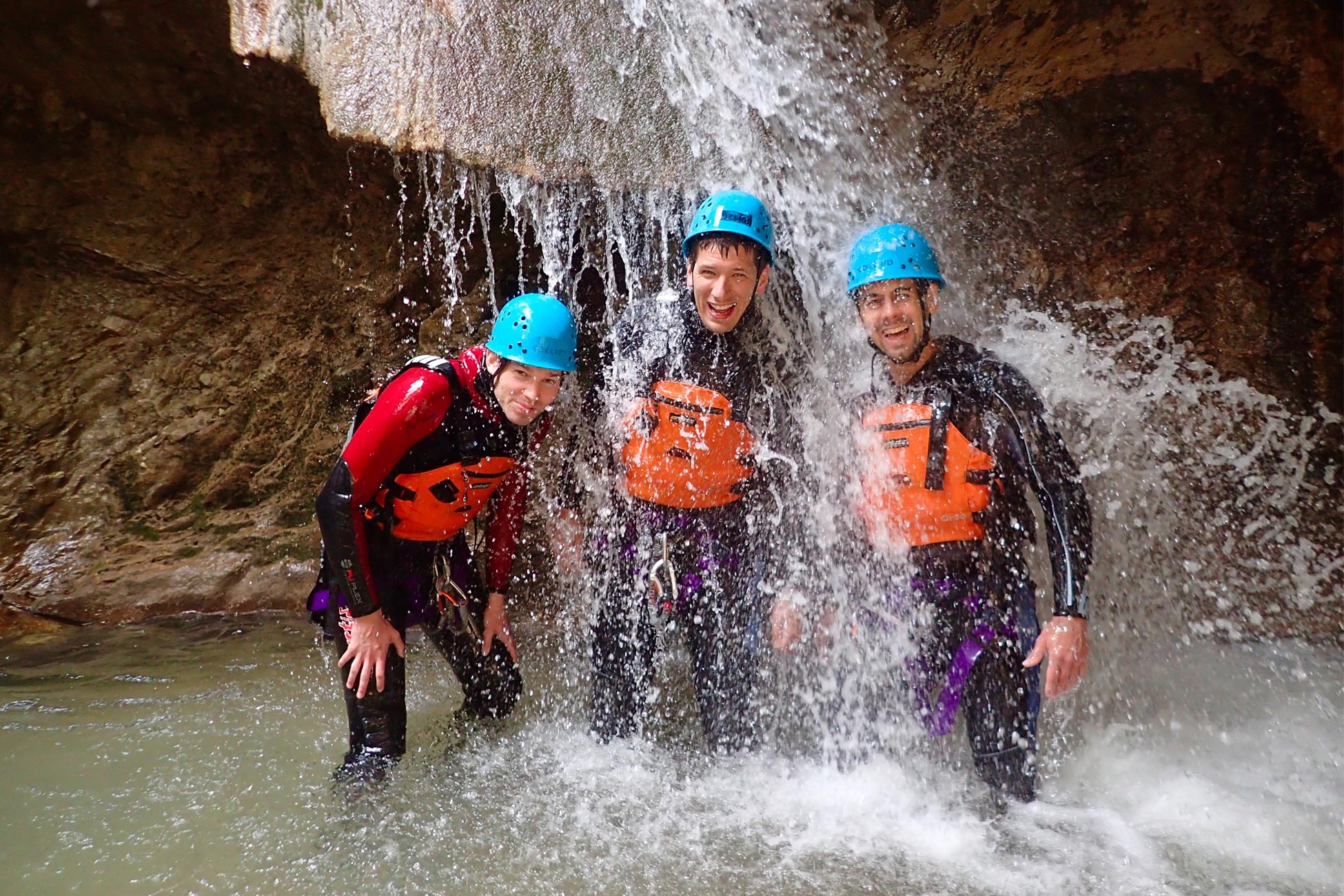 Discover all our activities
We organize daily guided tours for canyoning, fun kayaking, bellyaking, via ferrata and caving.
Starting times in the moring or early afternoon to choose from.